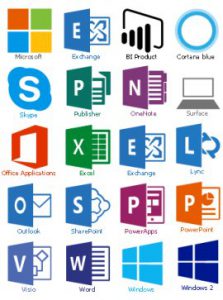 At Ikona we collectively have over 40 years experience in delivering shrink wrapped or off the shelf software products. Our highly qualified technicians are Microsoft Certified and can provide not only un-paralleled technical advice & support for the Microsoft suite of products, but can also install and deliver many other leading industry standard software applications.
Some of the many applications we have experience in delivering include:
– Microsoft Exchange
– Apache Web Server
– Microsoft SQL Server
– Adobe Suite
– OpenOffice
– Symantec
– Sage
Along with desktop applications, we also have extensive experience in operating system installation & administration with Microsoft environments right through to the latest 2019 release.  We can also advise and help deliver Open Source solutions into network environments in line with existing strategies. Including Open Source solutions on Linux where applicable can be cost beneficial.
Ikona can procure, install, configure & support a wide range of applications designed to meet your requirements. Ikona technicians have vast experience working on both large corporate applications as well as smaller applications delivering required functionality to form a complete business solution.